A new report on Kuratas KR01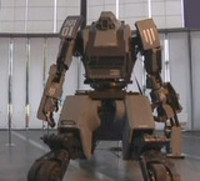 Some of you may have been following the story of the 4-meter tall working mecha called Kuratas KR01 now being developed in Japan. Now, Reuters has a new report on this real life giant robot complete with new footage and an interview with the creator of this mechanical marvel which is piloted from within and is capable of reaching speeds of six flippin' miles an hour. Watch below!
With "giant robots" and "virtual idols" now safely checked off on the shopping list of stuff we'd like to see Japan make into real life, can someone over there hurry up and start developing giant monsters?
Giant monsters anyone?
-------
Patrick Macias is editor in chief of Crunchyroll News. He also runs the Japanese Fashion Inferno tumblr blog. Follow him on twitter at @Patrick_Macias.