E ano que vem também teremos "Mirrors of Fate" para o 3DS.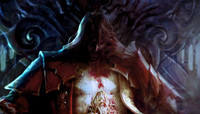 Após a cinemática liberada no evento da E3 da Konami neste ano, pouquíssimas informações sobre o novo grande jogo da série Castlevania: Lords of Shadow 2 chegaram ao público geral.
O que ninguém esperava foi que o anúncio por parte da Konami e a da MercurySteam (desenvolvedora chefe da franquia atualmente) nos traria a grata surpresa envolvendo a primeira amostra de jogabilidade, já no dia 7 de dezembro, durante o "Oscar dos jogos", o VGA 2012 da emissora Spike TV.
Sabe-se que o jogo rodará num motor gráfico novo e chegará ainda para esta geração de consoles além do PC, tudo isto em 2013, embora não se saiba se no primeiro ou segundo semestre do ano. Ao liberar esta notícia, a Konami também divulgou um pequeno teaser que faz referência a um dos antigos jogos da franquia. Você pode assisti-lo a seguir:
____

O Éberson Polita é um editor de notícias na Crunchyroll Brasil. Ele também faz análises de jogos na GameVicio. Siga-o em @_Eberson