From "My Little Sister is an Osaka Momma" to "Angel Drop," lots of cute girl anime on the way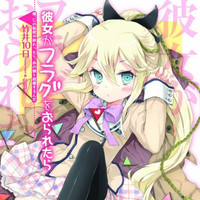 Anime adaptation announcements came fast and furious this week. In addition to the previously reported Photo Kano, there were a slew of others worth mentioning. It's mostly bishoujo, so check out all the cute girls below!
Besides the winter anime tv series adaptation of Mondai-Ji-tachi ga Isekai Kara Kuru So Desu yo? (Don't Problem Children Come From an Alternate World?), the eighth light novel in the series, shipping in late July, will be packaged with a special OVA episode.
TV series visual...
Magical Girl Lyrical Nanoha's Keizou Kusakawa helms the series kicking off January 11th, with Yasutaka Yamamoto (Squid Girl 2) directing Noboru Kimura's scripts (Nyarko-san)
The Osaka Rules cultural guides have spawned a series of Boku no Imouto wa Osaka Okan (My Little Sister is an Osaka Momma) series of Flash animated shorts about reunited siblings that simularly reunite gdgd Fairies rewriter/director and character designer Ishidate Kotaro and Sugahara Sota.
Cast includes Asumi Kana (Nyarko-san's Nyarko) Shiraishi Ryoko ( Hayate the Combat Butler's Hayate), and Iguchi Yuka (Nisemonogatari's Tsukihi Araragi).
The latest volume of Nagian and 10ka Takei's supernatural harem comedy light novel series Kanojo ga Flag o Oraretara (She Folds the Flag) presented the preliminary announcement that an anime is in the works.
From Baka Updates' description
Standing at the crossroads of life; the important choices - "Flags". Hatate Souta, a young man who can see these flags, transferred to "Hatagaya School", a prestigious school in the metropolitan area. Not only does he meet beautiful girls in his busy school life, he even goes as far as living with them under the same roof! Surrounded by these flags, this enviable romantic comedy begins!
Volume 5 of Morohe Yoshida's Inari, Konkon, Koi Iroha similarly made the announcement that the Young Ace supernatural/gender bender rom com will be getting its own anime.
From Baka Updates description of the series
Fushimi Inari has a hopeless crush on her classmate Tanbabashi. One day, while trying to interact with him, she accidentally humiliates him in front of the whole class. He refuses to accept her apologies, and, to make matters worse, she discovers that he probably has a crush on their incredibly cute classmate Sumizome.

She has all these things in mind when she is summoned by Uka-no-Mitama-no-kami, a pale fox goddess. In return for rescuing a little fox-spirit creature before school that day, the goddess offers to grant a single wish of Inari's. Without thinking, she blurts out that she wants to be Sumizome. As one might expect, this wish does not go nearly as well as Inari had hoped, and the kindly goddess breaks a goddess-rule to give Inari the ability to change herself back. Now, Inari can change her own shape at will, and using her new skill is very tempting as she keeps trying to win Tanbabashi's heart. But if Inari flaunts her ability, both she and the goddess might end up in trouble with Amaterasu!
Finally, Chizuna Nakajima's shoujo ai comedy Tenshi no Drop (Angel Drop) will likewise be getting its own anime.
From Baka Update's description
Botan Ichige has just enrolled in St. Asmaria All-Girl's School where angels are said to live. It turns out that angels do indeed live there, and after an accident, an angel named Un offers Botan her halo as a snack. After eating it, Botan discovers it had some bizarre side-effects, causing her to regularly "give birth" to colorful mushrooms. Is this the life of an angel!?
Which looks most promising to you?
via ieee80211abgn Yaraon and Moe Ota-News Sokuhō
------
Scott Green is editor and reporter for anime and manga at geek entertainment site Ain't It Cool News. Follow him on Twitter at @aicnanime.