Moe marketing even helps election in Japan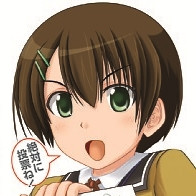 Like other countries in the world, there have been many efforts to increase turnout and encourage voting in Japan. Fukushima Prefecture in the Touhoku region has used a moe character named "Mirai Fukushima" to encourage people, especially the young, to vote since the election for their prefectural governor in 2010. Mirai (means future) has been featured on the posters for the major elections for two years.
Now Fukushima has a new promotional character for the next House of Representatives election in the middle of this month, Mirai's younger sister "Nozomi Fukushima". The name Nozomi(希望) means "hope". The prefecture has already printed 11,140 promotional posters featuring her and will start display them at various places including public facilities in the region on December 4th.
The poster featuring Nozomi Fukushima "Now, it's the election!"
Committee for Election Administration checking her posters
The poster featuring Mirai Fukushima in 2010 "Lets go to the election"
The poster featuring Mirai in 2011 "One vote for the future"
Source: Minyu-net, Fukushima Minpo