With plenty of pics to decide for yourself!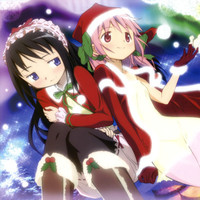 Here's a silly, but fun poll - as well as a excuse to post a few Christmas pics. Biglobe Anime Rankings recently got six and a half thousand otaku to answer which anime heroine looks best, or would look best, in a santa suit. Basically, who would they like to invite into their homes on Christmas Eve dressed as Claus-chan.
1. K-on!'s Yui Hirasawa
2. Hyouka's Eru Chitanda
3. Chūnibyō Demo Koi ga Shitai!'s Rikka Takanashi
4. K-On!'s Azusa Nakano
5. Haganai's Sena Kashiwazaki
6. Chūnibyō Demo Koi ga Shitai!'s Shinka Nibutani
7. K-On!'s Mio Akiyama
8. Oreimo's Kirino Kousaka
9. A Certain Scientific Railgun's Mikoto Misaka
10. K-on!'s Ui Hirasawa
11. A Certain Scientific Railgun's Ruiko Saten
12. Bakemonogatari's Nadeshiko Sengoku
13. Strike Witches' Eila Ilmatar Juutilainen
14. Haruhi Suzumiya
15. Working!!'s Popura Taneshima
16. K-on!'s Mugi Kotobuki
17. Madoka Magica's Homura Akemi
18. YuruYuri's Akarin
19. To Love Ru's Yui Kotegawa
20. Inu x Boku SS' Karuta Roromiya
21. Chūnibyō Demo Koi ga Shitai!'s Kumin Tsuyuri
22. Kannagi's Zange
23. (tie) Tari Tari's Sawa Okita
23. (tie) Bakemongatari's Hitagi Senjougahara
25. Kokoro Connect's Iori Nagase
26. (tie) Angel Beats!' Angel
26. (tie) Madoka Magica's Mami
28. The Melancholy of Haruhi Suzumiya's Mikuru Asahina
29. The World Only God Knows' Elsie
29. Pet Girl of Sakurasou's Nanami Aoyama
29. Pet Girl of Sakurasou's Mashiro Shiina
33. Evangelion's Rei Ayanami
34. Strike Witches' Gertrud Barkhorn
35. A Certain Magical Index's Tsukuyomi Komoe
36. Guilty Crown's Inori Yuzuriha
37. Another's Izumi Akazawa
38. Dusk Maiden of Amnesia's Yuko Kanoe
39. Toradora's Minori Kushieda
40. Code Geass' Milly Ashford
41. My Ordinary Life's Nano Shinonome
42. (tie) Magical Girl Lyrical Nanoha StrikerS' Caro Ru Lushe
42. (tie) Girls und Panzer's Miho Nishizumi
44. AnoHana's Menma
45. Ojamajo Doremi's Onpu Segawa
46. Ojamajo Doremi's Aiko Senoo
47. MariMite's Todo Shimako
48. JewelPet's Rinko Kougyoku
49. Girls und Panzer's Darjeeling
50. Comet-san
Which is your favorite?
Who do you think is missing?
------
Scott Green is editor and reporter for anime and manga at geek entertainment site Ain't It Cool News. Follow him on Twitter at @aicnanime.