Companion accessory to necomimi ears would responded to wearer's emotions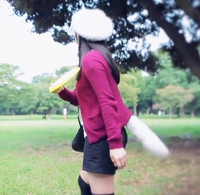 Following the craze of brainwave controlled "necomimi" ears, there are have concept videos aboout brainwave controlled tails to go along with them. Now, "Project Tailly" has been launched to make it a reality.
Currently, there's a a prototype of the moving tail, "Tailly", which uses sensors on the inside of the belt to measure the user's heart rate. The project seeks to raise £60,000 ($96,000) by January 6th in a crowd funded Kickstarter campaign to complete the development of the product.
Tailly 's Facebook page: http://www.facebook.com/project.tailly
Normally the tail hangs down, but when the user gets excited and their heart rate increases, the tail starts wagging, and when they calm down and their heart rate decreases, the tail swings slowly.
Tailly is not just a toy, nor is it a fashion accessory or a gadget. It is those three items combined, and, since it reacts to the heart beat rate, an extension of the users' body. Tailly is fun to wear to parties, while out with friends or playing with kids. You could even wear Tailly on a date and express your true feelings through the wagging tail. Even better, your partner could also wear one for the both of you to add a level of subconscious communication between the two of you.
The basic color of the tail is white, but the tail is interchangeable, and we also are offering covers in Black, Gray, and Golden Brown.
If we meet the fundraising goal, we will aim to deliver "Taillys" to our kind supporters in August 2013. We plan to produce 3000 Taillys by August 2013. If there are more backers join us, the rewards which are limited will have priority.
I, Shota Ishiwatari, the creator of "Tailly", have previously developed prototypes of "necomimi" for neurowear.
Thanks to NeuroSky, "necomimi" has successfully shipped to the market and has reached numerous customers. I am very happy about this and am immensely grateful to Neurowear and NeuroSky. As a matter of fact, the idea behind "Tailly" was born after those who bought "necomimi" have repeatedly asked when a matching tail would be available to complement their playful outfit.
However, this time around, I do not want to only create the protoype, but also see through the product design and production by myself.
To make this possible, I need to raise £60,000 in order to cover the manufacturing costs for the production of the first lot. That is why I have launched this project with Kickstarter and am asking for your kind cooperation.
It would have been possible to set the target sum lower and thus improve my chances of reaching my goal. However, rather than letting it all end after the completion of this Kickstarter project, I would like to make this a chance to continue Tailly's production, and to work hard to have my products lined up on store shelves, available for more people to purchase.
If we reach our target, I will attach a Premium label on the "Taillys" sent to those who invested in "Tailly" via Kickstarter, in order to distinguish them from the "Taillys" made commercially available afterwards.
I am very excited to be using Kickstarter for this purpose to make the product accessible to the whole world from day one. As availability of the product I have been working on previously is limited in some regions, I hope to show that the all users are equally important to me with Tailly.
RISKS AND CHALLENGES
There are always risks involved in designing and manufacturing new products. We would like to take on the challenge of overcoming these risks, and we feel that there are two major challenges with "Tailly":
1) Measuring heart rate
With the prototype we were successful in measuring our heart beat, but we cannot guarantee that it will work with people of all ages, body types and races in all living conditions.
We aim to develop "Tailly" so that it can be used by as many people as possible, but since this is not a project for developing medical equipment, it might not function perfectly under all conditions.
2) The strength of the product.
We are carrying out our product design and looking into trial production, and we are giving careful thought to the strength of the product, but since "Tailly" is built with plastic and motors there is a limit to its strength - we can't guarantee that "Tailly" will not break if handled roughly or if you sit down awkwardly whilst wearing it, although we will do our best to try and make it as durable as possible.
We have already started thinking about product design and manufacturing, but only after the completion of the Kickstarter project will we go into full-scale action.

When deciding upon our target sum and deadline, we have done our best to allow for any delays and price fluctuations, however, we cannot deny the possibility of late delivery due to unforeseen circumstances, such as the availability of factory space or material shortages. However, if a situation like that does arise, we'll do our best to overcome the situation as smoothly as possible.

The current prototype is holding up really well, but there are always cases in product design when concerns arise regarding the product's durability or safety. In such cases the problematic elements must be fixed, which of course has a knock-on effect on production and delivery.
We will, of course, keep our supporters in the loop with regular updates on the production of Tailly.
------
Scott Green is editor and reporter for anime and manga at geek entertainment site Ain't It Cool News. Follow him on Twitter at @aicnanime.