My Little Autocrat Can't Be This Cute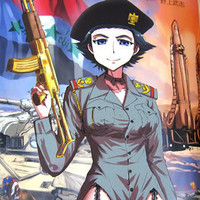 As Girls und Panzer has recently demonstrated, history otaku can be a bit frightening. Here's another example.
Ikaros just published a mook (magazine/book) featuring the chronicles of the 20th century's worst dictators, entitled Nyotai ka!! Sekai no Dokusaisha Retsuden (In Female Form?! Biographies of World Dictators). In it, you can find moe and bishoujo depictions of the brutal autocrats, along with prose histories.
Warning, this gets a bit weird....
China's Mao Zedong
North Korea's Kim Il Sung
Iraq's Saddam Hussein
Germany's Adolf Hitler
The Soviet Union's Joseph Stalin
Italy's Benito Mussolini
Cambodia's Pol Pot
Yugoslavia's Josip Broz Tito
Cuba's Fidel Castro
Dominican Republic's Rafael Trujillo's
Libya's Muammar Gaddafi
Sudan's Omar al-Bashir
Other entries include:
Europe Vladimir Lenin, Antonio Salazar, , Francisco Franco, Nicolae Ceausescu, Slobodan Milosevic, Józef Pilsudski, Alexander Lukashenko, Engelbert Dollfuss, Georgios Papadopoulos, Todor Zhivkov
Asia Hideki Tojo, Chiang Kai-shek, Kemal Ataturk, Ferdinand Marcos, Saparmurat Niyazov, Khorloogiin Choibalsan Bashar al-Assad, Lee Kuan Yew, Sarit Thanarat, Park Chung-hee, Suharto, Heydar Aliyev
Central and South America Manuel Noriega, Juan Peron, Augusto Pinochet, Hugo Chavez, Alfredo Stroessner,Maximiliano Hernández Martínez, Jorge Ubico, Getúlio Vargas, Hugo Banzer Suarez, Juan Velasco Alvarado, Anastasio Somoza Garcia
Africa Idi Amin, Robert Mugabe, Jean-Bokasa Bedell, Hastings Banda, Mohamed Siad Barre, Mengistu Haile Mariam, Jomo Kenyatta, Charles Taylor, Modibo Keita / Moussa Traoré, Ahmed Sékou Touré, Kwame Nkrumah / Jerry Rawlings, Mobutu-Sese, France-Albert Rene, Teodoro-Obiang-Nguema, Habib Bourguiba, Hissène Habré , Juvénal Habyarimana
The book can be ordered from Amazon Japan
via Kotaku and AkibaBlog (NSFW!)
-------
Scott Green is editor and reporter for anime and manga at geek entertainment site Ain't It Cool News. Follow him on Twitter at @aicnanime.