Mugen-Tenshin Christmas traditions include egg nog, watching "Jingle All the Way," and beating the crap out of each other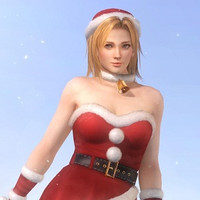 Christmas is just around the corner, so that means it's time for Royal Dansk butter cookies, cherry cordials, and... another Dead or Alive 5 costume pack?
That's right, Tecmo Koei is giving fans of their sexy fighter another set of costumes, this time getting twelve characters into the holiday spirit with Santa outfits!
Pack #1- Kasumi, Hitomi, and Lei-Fang (240 MSP/$3)

Pack #2- Ayane, Christie, and Tina (240 MSP/$3)

Pack #3- Bayman, Hayate, Hayabusa, Jann Lee, and Akira (240 MSP/$3)
Sadly, Tecmo Koei didn't provide any art of Jann Lee or Virtua Fighter's Akira Yuki, so I'll just let your imagination handle the rest. Also, if you feel like decking out all twelve characters, a complete bundle costs 640 MSP/$8.
Will you be decking the halls and kicking some ass with Dead or Alive 5's Christmas DLC? While you're at it, check out these screens featuring the other five DoA5 costume packs!
Additional Costume Set (a.k.a. Costume Set 1)
Kitty Pack/What a Character!/Special Set
Gym Clothes Pack/School Uniform Pack/Special Set 2
Angels Pack/Devils Pack/DOATEC Divas Pack/Player's Swimwear Packs