America doesn't even make the top 10!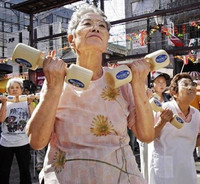 The Global Burden of Disease Study 2010 (how's that for a name?) was a decade long study assessing health and disease in over 187 countries. Today, they released their ranking of countries with the highest healthiest life expectancy, and wouldn't you know it…Japan of all places tops the list for both males and females!
Old people in Japan: They're gonna live forever!
This is actually the second time Japan has topped such a ranking (the first time was in 1990), and you can read the results for the latest top ten below…
Highest Male Healthy Life Expectancy (by country):
1. Japan
2. Singapore
3. Switzerland
4. Spain
5. Italy
6. Australia
7. Canada
8. Andorra
9. Israel
10. South Korea
Highest Female Healthy Life Expectancy (by country):

1. Japan
2. South Korea
3. Spain
4. Singapore
5. Taiwan
6. Switzerland
7. Andorra
8. Italy
9. Australia
10. France
Some of you may now be wondering where "Team America" fits into the picture. It turns out Uncle Sam ranks 29th place for male life expectancy and 33rd for female life expectancy. Not so great!
So what's Japan's big secret to living longer and healthier? Staple foods like rice and miso soup? Not sweating the big stuff? Good genes?
Bascially, it's a big mystery. Says Joshua Salomon, a prof from the Harvard School of Public Health who worked on the study says, "Japan give us something to aspire to, but there's more work to be done to figure out what their formula really is," said Saloman.
I'm willing to bet it isn't booze, cigarettes, and fast food, even though Japan certainly has no shortage of those either.
------
Patrick Macias is editor in chief of Crunchyroll News. He also runs the Japanese Fashion Inferno tumblr blog. Follow him on twitter at @Patrick_Macias.