Actor to play part in long-planned live-action adaptation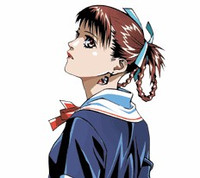 Following his unexpected turn dropping F-bombs during Saturday Night Live this past weekend, Samuel L. Jackson has confirmed his plans to Movies.com after production and filming wraps up on the new Robocop reboot.
"After [RoboCop], I'm going to do this live-action version of Kite, the Japanese anime. I'll be doing a live-action version of that in Johannesburg."
With the Kite adaptation being long-planned for release since director David R. Ellis took over directorial duties last September, the confirmation of both Jackson and Johannesburg as the filming location means that production is ramping up to filming pretty soon with more details and confirmations expected.
With the live-action adaptation riffing on the original storyline by throwing it into a world post-economic collapse, one has to wonder if Yasuomi Umetsu's trademark graphic stylized violence can even be retained, much less the graphic sex scenes which were forced on the original OVAs.
---
Humberto Saabedra is the Editor-in-Chief of AnimeNews.biz, PhoneNews.com and an occasional columnist for Ani.me. He can also be found musing on his favorite 2D girls at @AnimeNewsdotbiz.