And Crunchyroll News, too!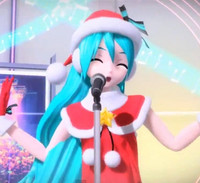 Twas the night before Christmas and all through the house, not a creature was stirring…just the virtual diva known as Hatsune Miku! And for Xmas, SEGA's Miku dev team has delivered an Xmas makeover to the 5th anniversary Miku song "39" in a new seasonal video below...
The song "39" (Thank You), originally released earlier this summer, will also be featured prominently in the upcoming Project Diva F game. Ask Santa to reserve your copy now…
AND HAPPY HOLIDAYS FROM ALL OF US AT CRUNCHYROLL NEWS!