Tex-Mex presents action manga as live action production in Comiket 83 doujinshi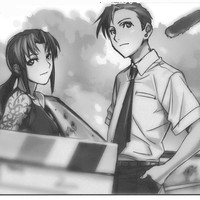 Black Lagoon creator Rei Hiroe has a not too secret alter-ego. He's also doujin art Red Bear of the Tex-Mex circle. Under that guise, he regularly creates ero doujinshi for characters from Fate/stay night, Hellsing, or this summer, a Steins;Gate x Dusk Maiden of Amnesia cross-over. He also creates non-sexual doujinshi based on his own manga. The latest of these re-imagines Black Lagoon as a Hollywood production.
In Comiket 83's "R of Blacklagoon"
Revy is an actress playing against type after a taking her career to Hollywood following a Hong Kong debut.
Rock is a third generation Japanese American who learned to speak Japanese for the role.
Dutch is an experienced actor - the entry on him also notes that most of the torpedo boat screens are CG, shot in studio against a green screen.
Benny is also playing against type and is a bit of a gossip magazine trouble magnet.
Balalaika is Russian American and has to turn up to the set earlier than the rest of the cast for her scar make-up.
Cheung is the big name actor from Hong Kong who's pretty quiet in person.
The twins are playd by a pair of German American girls.
Season 9 is shot in the Philippines instead of Thailand. The break down of seasons follows something like the collections of the manga - so "Bloodsport Fairy tale" was in season 3, "Fujiyama Gangsta Paradise" ran through season 5 and "El Baile de la muerte" went into season 9. Currently uncollected "The Wired Red Wild Card" is being cast.
A spin-off is also in the works.
From Tex-Mex's 2009 "Black Lagoon Natsu Nanode Burakura Mizugi Hon Toka"
2008's "Blacklagoon Anime Shuuryou Kinenbon"
2003's "Get By Work"
And some clean picks from TEX-MEX's ero books
Who would you cast as the stars of Black Lagoon if it were a real production?
------
Scott Green is editor and reporter for anime and manga at geek entertainment site Ain't It Cool News. Follow him on Twitter at @aicnanime.