Starts Jan/4 at 10am Pacific Time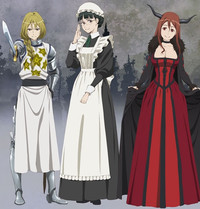 New anime for the winter season continues to find a home at Crunchyroll, and this time the hotly anticipated fantasy series Maoyu has been announced!
Maoyu is based on the light novel series by Mamare Touno that initially appeared on 2channel in 2009 before it began publication in 2010. The anime features direction by Takeo Takahashi who also helmed Spice and Wolf.
Maoyu is set to broadcast every Friday starting on January 4th at 10:00 am Pacific Time for its premium members. Free members will be able to view one week after initial broadcast on Crunchyroll.
Official story synopsis:
"Fifteen years have passed since the war between humans and demons began. The human army that charged through the gate into the demon world managed to take one of the demon clan's vital strongholds, but left an opening for the demon clan to occupy part of the humans' territory. Frequent skirmishes between humans and demons in the intensely cold southern kingdoms have caused everyone much suffering and confusion.
In the midst of all this turmoil, one hero stood up and set forth with his three companions to subjugate the demon clan. Their advance became a great source of hope for the people of the central nations.
However, whether because he grew irritated with the slow progress of his advance or for some other reason, the hero left his companions and set off for the demon king's castle alone..."
Maoyu will be available to Crunchyroll's audience in the following territories: North America, South America, Ireland, Finland, Denmark, Norway, Sweden, Iceland, and the Netherlands.
The series page can be found at www.crunchyroll.com/maoyu
--------

Patrick Macias is editor in chief of Crunchyroll News. He also runs the Japanese Fashion Inferno tumblr blog. Follow him on twitter at @Patrick_Macias.