Starts Jan/4, at 7:00pm Pacific Time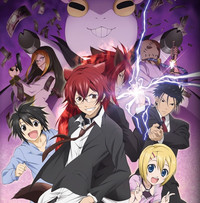 The new winter anime announcements at Crunchyroll continue with Cuticle Detective Inaba which is set to broadcast every Friday starting on January 4, at 7:00pm Pacific Time for premium members, and January 11 for free members.
Here's the official staff and story details ...
Based on the original manga written and illustrated by Mochi, Cuticle Detective Inaba centers around Hiroshi Inaba, who is genetically engineered to be part wolf and part human. He runs his own private detective agency, along with his cross-dressing secretary Yuta Sasaki and teenage assistant Kei Nozaki. Their goal is to arrest their arch-nemesis, Don Valentino, a goat that literally eats money!
The cast features Junichi Suwabe as main character Hiroshi, Asami Shimoda as Yuta, and Miyu Irino as Kei. Toru Ohkawa, Roy Mustang of Fullmetal Alchemist fame, will be voicing the diabolical goat Don Valentino. The opening will be performed by Suwabe himself, titled "Haruka, Nichijou no Naka de," and the ending is "Prima Stella", sung by Ohkawa.
Cuticle Detective Inaba will be available to Crunchyroll's audience in the following territories: USA, Canada, UK, Ireland, South Africa, Australia, New Zealand, Netherlands & Scandinavia.
The series page is live now at www.crunchyroll.com/inaba
--------

Patrick Macias is editor in chief of Crunchyroll News. He also runs the Japanese Fashion Inferno tumblr blog. Follow him on twitter at @Patrick_Macias.