Now let's all start singing "Indestructible"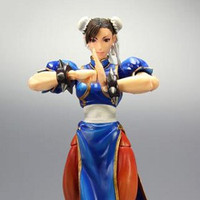 Square Enix's Play Arts KAI figures are the kind of toys that we totally don't deserve--insanely posable and playable with ultra-detailed sculpts and an interesting variety of alternate parts and accessories. We've previously shown off figures for Vanquish, Batman: Arkham Asylum, and Metal Gear, but the latest Play Arts KAI offerings feature the legendary brawlers of Street Fighter! Each figure comes with alternate hands, an alternate head, a "signature move" accessory with a stand, and a base for the figure itself.
RYU
CHUN-LI
CAMMY
AKUMA
Looks more like Akuma decapitated Lady Gaga.
Play Arts KAI figures are often pretty pricey--usually in the $50-75 range--but you're definitely getting a lot of bang for your buck. Do we have any hardcore figure collectors adding these fighters to their shelf?