Starts Jan/9 at 10:00 am Pacific Time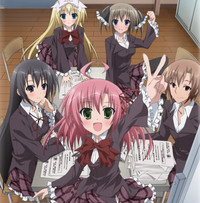 Hark! Here's another winter announcement at Crunchyroll! This time, Student Council's Discretion Level 2 joins the ever-growing lineup of streaming anime.
Based on the light novels by Sekina Aoi, this sequel to 2009's Student Council's Discretion Level (already streaming on Crunchyroll) is set to broadcast every Wednesday starting on January 9th at 10:00 am Pacific Time for its premium members. Free members will be able to view one week after initial broadcast on Crunchyroll.
Story info
"The student council of the private school Hekiyo Academy is a paradise where wild delusions never rest. After successfully joining the student council due to his excellent grades, the second-year vice president, Ken Sugisaki, aims to make the female remainder of the student council his harem, but is regularly treated like nothing more than air...
The strongest little kid around, president Kurimu Sakurano; the cool and kind but super-sadistic secretary, Chizuru Akaba; the boyish vice president who's surprisingly girly at times, Minatsu Shiina; and the sweet, lovely treasurer with several regrettable qualities, Mafuyu Shiina...
The crazy, almost out-of-control daily lives of these highly unique members is still continuing nonstop - today, tomorrow, and the day after!
But the time limit imposed by the upcoming graduation is drawing nearer... What will happen to the student council? What will its members do?! Do we never learn, making a second anime season out of this?!"
Student Council's Discretion Level 2 will be available to Crunchyroll's audience in the following territories: North America, Ireland, Finland, Denmark, Norway, Sweden, Iceland, and the Netherlands.
The series page can be found at www.crunchyroll.com/student-councils-discretion
--------

Patrick Macias is editor in chief of Crunchyroll News. He also runs the Japanese Fashion Inferno tumblr blog. Follow him on twitter at @Patrick_Macias.