Starts Jan/7, at 7:00 am Pacific Time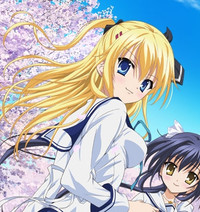 The fourth new streaming anime announcement of the day at Crunchyroll is Da Capo III, based on the third installment of the Da Capo visual novel franchise developed by Circus.
The Da Capo III anime is set to broadcast on Monday, January 7th, at 7:00 am Pacific Time for its premium members. Free members will be able to view one week after initial broadcast on Crunchyroll.
Story:
"On the island of Hatsune, where the spring scenery lasts all year round, stands a large cherry tree that never withers. This mysterious cherry tree, rumored to grant any wish, is the symbol of Hatsune Island. However, one day, it suddenly turns into an ordinary tree...
The scent of spring enhances this slightly bittersweet tale of Sakura and the Kazami Academy Newspaper Club."
Da Capo III will be available to Crunchyroll's audience in the following territories: U.S.A, Canada, Central/South America, United Kingdom, Ireland, South Africa, Australia, New Zealand, Spain, Portugal, Turkey, Denmark, Finland, Netherlands, Norway, and Sweden.
The series page will be up soon at www.crunchyroll.com/dacapo
MORE NEW STREAMING ANIME ANNOUNCEMENTS COMING SOON!
--------

Patrick Macias is editor in chief of Crunchyroll News. He also runs the Japanese Fashion Inferno tumblr blog. Follow him on twitter at @Patrick_Macias.