Starts Jan/7, at 11 a.m. Pacific Time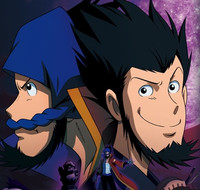 Lo! Another winter streaming anime announcement from Crunchyroll! This time, Bakumatsu Gijiden Roman, featuring character designs by the creator of Lupin III, gets the spotlight.
In addition to Lupin artist Monkey Punch's characters, Bakumatsu Gijiden Roman also features voice acting from Eri Kitamura (Black Rock Shooter, Minami-ke, C3) and Kazuya Nakai (xxxHOLiC, One Piece, Gintama).
Bakumatsu Gijiden Roman is set to broadcast every Moday starting on January 7, at 11 a.m. Pacific Time for premium members. Free members will be able to view one week after initial broadcast
Story:
"The stage is the close of the Edo period, an age when, not unlike our own time, both natural and man-made disasters left chaos in their wake. Manjiro makes a living helping the people of the troubled capital city, but behind the scenes, he also works in secret to take back precious belongings stolen from the people by unjust political powers and conspiratorial menaces. The people call him 'Get-backer Roman.'
Bakumatsu Gijiden Roman is a novel, action-packed period anime following the activities of Roman and his friends as they strive for the dreams they believe in, despite the great trials and tribulations of their time. The series may even deliver a sharp jab to our own modern generation. The underlying hope is to inspire all those feeling trapped and depressed by modern society to laugh off the despair of this chaotic age and to give them the courage to face anything even when they feel the most helpless."
Bakumatsu Gijiden Roman will be available to the following Crunchyroll audiences: U.S., Canada, Caribbean, Central America, South America, and Latin America.
The series page will be up soon at www.crunchyroll.com/roman
--------

Patrick Macias is editor in chief of Crunchyroll News. He also runs the Japanese Fashion Inferno tumblr blog. Follow him on twitter at @Patrick_Macias.