Starts on Jan/9, at 10:40am Pacific Time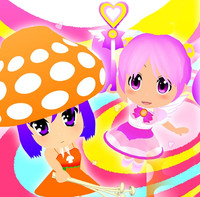 Another announcement issues forth from Crunchyroll on this winter's day: gdgd Fairies 2. This follow-up to the first gdgd Fairies series (already streaming on Crunchyroll) is set to broadcast every Wednesday starting on January 9, at 10:40am Pacific Time for its premium members, and January 16 for free members.
Story and background info:
"gdgd Fairies 2 centers around three little fairies with weak magical powers, and their antics and misadventures in Fairy Forest. The series is animated via 3D computer graphics, with character designs by director Sota Sugahara, who is also directing this season's Boku-no-imoutowa"Osaka-okan". The stars of the show are pkpk, the innocent pink-haired fairy, shrshr, a high-spirited blonde fairy, and krkr, the emotionless purpled-haired fairy with a dark sense of humor.
The show casts voice actress Suzuko Mimori as pkpk, whose other works include Himiko of BTOOOM! and Moe Sato from Poyopoyo, Kaoru Mizuhara as shrshr, known for her work as Saki Amano from Kanamemo, and Satomi Akesaka, who also voiced Miho Edogawa from Level E and Henriette from Tantei Opera Milky Holmes, as krkr."
The series page can be found at www.crunchyroll.com/gdgd
--------

Patrick Macias is editor in chief of Crunchyroll News. He also runs the Japanese Fashion Inferno tumblr blog. Follow him on twitter at @Patrick_Macias.