To be made into sushi, naturally...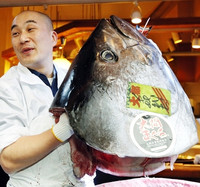 A new world record for "crazy" was broken yesterday in Japan, when a single bluefin tuna, weighing 489 pounds, sold on auction for 155.4 million yen (think: US$ 1.7 million dollars).
This whopper rang in the first auction of the year at Tokyo's famed Tsukiji fish market, where bluefin tuna is highly prized…although never quite to the tune of 700,000 yen per kilogram, or $3,603 per pound before.
It turns out the high bidder was the president of a company that operates a chain of sushi restaurants who planned to serve up his prize to customers later that same day. He was quoted as saying, "the price was a bit high," but that he wanted to "encourage Japan."
By buying a fish. For 1.7 million bucks.
Video report below…
--------

Patrick Macias is editor in chief of Crunchyroll News. He also runs the Japanese Fashion Inferno tumblr blog. Follow him on twitter at @Patrick_Macias.