"Jyuden Sentai Kyoryuger" begins airing Feb/17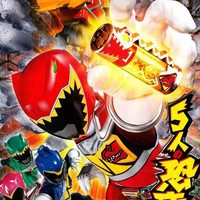 Tokusatsu fans, hang onto your Megazord! Toei has just released an official video clip showing off the latest addition to the Super Sentai series! Get an action packed look at Jyuden Sentai Kyoryuger (AKA Electro Beast Task Force Dinosaurger) below!
Jyuden Sentai Kyoryuger will debut on Japanese TV on Feb/17, and marks the 37th entry in the Super Sentai series (take that, Doctor Who!) The dinosaur theme is a holler-back of sorts to the earlier Sentai shows Zyuranger and Abaranger, but you won't hear any complaints from us. At least until someone decides to edit the Japan out and slaps a Power Rangers label on it…and even then, we will probably too busy going "ooooh dinosaurs" to care.
--------

Patrick Macias is editor in chief of Crunchyroll News. He also runs the Japanese Fashion Inferno tumblr blog. Follow him on twitter at @Patrick_Macias.