Starts Jan/8, 7:30am Pacific Time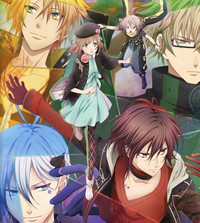 It's a new week and Crunchyoll is kicking it off with a new round of streaming anime announcements! First up is AMNESIA, based on the visual novel and PlayStation Portable game.
AMNESIA is set to broadcast every Tuesday starting on January 8, at 7:30am Pacific Time for its premium members, and January 15 for free members. The show page will be up shortly at www.crunchyroll.com/amnesia.
Story, staff, and region info:
AMNESIA is based on the visual novel game of the same name, originally released for the PlayStation Portable. In the game, the main character is a girl who wakes up with amnesia, and is helped by a spirit named Orion who guides her as she attempts to regain her memory. Being a dating-sim type of game, there are five different guys she can end up with, depending on the choices of the player.
The cast from the game return for the anime as well, with Tetsuya Kakihara, Kishou Taniyama, Satoshi Hino, Akira Ishida, and Kouki Miyata as the five male leads. Kaori Nazuka, Nunnally from Code Geass, is cast as the lead heroine, and Hiromi Igarashi, who was Aoi Hyoudou from Maid Sama! will be voicing her guide Orion. AMNESIA is being animated by the studio Brains Base, who also did last season's popular My Little Monster anime. NicoNico-singer-turned-professional Nagi Yanagi will be providing the show's opening song, "Zoetrope", while the ending theme is "Recall" by Ray.
AMNESIA will be available to Crunchyroll's audience in the following territories: USA, Canada, UK, Ireland, South Africa, Australia, New Zealand, Netherlands & Scandinavia.
MORE SHOW ANNOUNCEMENTS LATER TODAY!
--------

Patrick Macias is editor in chief of Crunchyroll News. He also runs the Japanese Fashion Inferno tumblr blog. Follow him on twitter at @Patrick_Macias.