Starts Jan/11 at 12:00 pm Pacific Time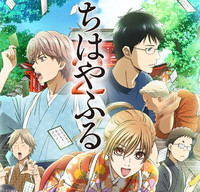 Some of you can breathe easy and hopefully sleep a little bit better tonight…because YES, Crunchyroll will be streaming the Chihayafuru 2 anime! The new season will begin January 11th at 12:00 pm Pacific Time for premium members. Free members will be able to view one week after initial broadcast on Crunchyroll.
This adaptation of Yuki Seutsugu's award winning Chihayafuru manga continues with actress Asami Seto in the role of "Chihaya Ayase" with animation produced by Madhouse Studios (Hunter x Hunter, Summer Wars).
Story:
"Now in their second year of high school, Chihaya and her friends share all the fun and worries that come with welcoming underclassmen to the team as they face tough rival schools. The passion of the Mizusawa Karuta Club burns hotter than ever, but with the same refreshing, youthful mood carrying over from the first season."
Chihayafuru 2 will be available to Crunchyroll's audience in the following territories: USA, Canada, United Kingdom, Ireland, South Africa, Australia, and New Zealand.
CR is already streaming season one, and the series can be found at www.crunchyroll.com/chihayafuru. Might be a good time to catch up before the new episodes begin!
--------

Patrick Macias is editor in chief of Crunchyroll News. He also runs the Japanese Fashion Inferno tumblr blog. Follow him on twitter at @Patrick_Macias.