Starts Jan/8 at 10am PST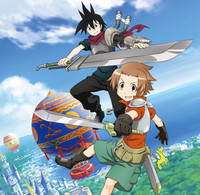 It's time for another new anime announcement from Crunchyroll! The fantasy adventure SENYU, based on the Niconico online manga, is set to begin streaming starting tomorrow January 8, at 10:00 am Pacific Time for premium members. Free members will be able to view one week after initial broadcast on Crunchyroll.
Adapted from Robinson Haruhara's action-comedy manga, the SENYU anime features voice acting from Ai Kayano (Bodacious Space Pirates, Lagrange) and Hiro Shimono (The World God Only Knows, SKET Dance), with opening and ending themes composed by fan favorites JAM Project (Bakuman, Super Robot Wars).
Story:
"Long ago, there lived an evil being who reigned over the world through fear, called Satan Rchimedes. He invaded the human world with his many demon underlings, spreading madness and chaos everywhere. One thousand years ago, this menace was sealed by the hero Creation, and peace returned to the world.
Then, one day, a great hole suddenly appeared on the surface of the world, and a vast number of demons appeared. The king discerned that the menace Satan had returned after being sealed away for a thousand years, and decided to send the hero's descendants to battle him. He found 75 men. As one thousand years had passed, you see, it was difficult to tell who the hero's descendants were.
So the king declared that he would grant the title of "true hero" and great fortune to the one who defeated Satan, and ordered the new hero, Alba, and his warrior attendant, Ross, on a quest to bring down the evil Satan.
Though he struggles with lesser monsters and is even nearly killed by his partner Ross, Alba's quest to polish his fighting skills leads him to new places and new meetings that he had never expected. Battles, laughter, and emotional moments enhance this adventure tale of an incompetent hero and a sadistic warrior!"
SENYU will be available to worldwide, Crunchyroll premium members except for Japan. This series will also be available to free users worldwide, except for Asia.
--------

Patrick Macias is editor in chief of Crunchyroll News. He also runs the Japanese Fashion Inferno tumblr blog. Follow him on twitter at @Patrick_Macias.