Starts Jan/13 at 7:30 am Pacific Time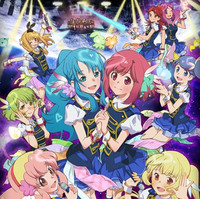 The new streaming anime announcements at Crunchyroll CONTINUE with AKB0048: next stage, which is set to broadcast every Sunday starting on January 13, at 7:30 am Pacific Time for premium members. Free members will be able to view one week after initial broadcast on Crunchyroll.
Inspired by AKB48 -- Japan's most popular idol group -- this second season of the AKB0048 anime features voice acting from six members from across all three AKB48 teams: Team A (Karen Iwata, Mayu Watanabe, Sumire Sato), Team K (Amina Sato, Sayaka Nakaya), and Team B (Haruka Ishida). Other members from the AKB family also in AKB0048 include Kumi Yagami from SKE48 Team S, Mao Mita from NMB48 Team M, and Sawako Hato from SKE48 Team KII.
Story
"At the start of the 21st century, an interplanetary war broke out. Earth's ecosystem was severely damaged, and humanity was forced to flee the planet. On several planets of this new society, things that 'disturb the heart' like music and art are forbidden.
Before the people called 'Idols' fell into ruin, the legendary idol group AKB48 is resurrected as the interplanetary troupe AKB0048, made up of girls who carry on the title and spirit of the original members. Held as heroines by some and labeled as terrorists by others, they must take up arms to bring their music to their fans wherever they are."
AKB0048: next stage will be available to the following territories: U.S., Canada, United Kingdom, Ireland, Australia, New Zealand, Finland, Denmark, Netherlands, Norway, Sweden, South and Central America.
The show page will be up soon at www.crunchyroll.com/akb0048
--------

Patrick Macias is editor in chief of Crunchyroll News. He also runs the Japanese Fashion Inferno tumblr blog. Follow him on twitter at @Patrick_Macias.