Infant care products packaged to look like tasty treats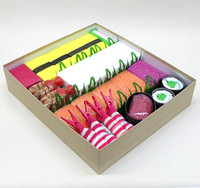 Here's two tastes that you normally wouldn't think go great together: diapers and sushi. Yet cleverly designed sushi gift sets containing Pampers plus baby care products are proving to be a big hit.
There's currently a two month waiting time for orders of "Omutsu Sushi" (moon language for diaper sushi), which use folded diapers for rice and are topped with baby essentials. The sets come in four different sizes ranging in price from around US$56 to US$112 and are produced in association with Wire Mama Magazine.
We'd like to think there's actually a sushi bar somewhere where a smiling guy uses his masterful skills to make sushi out of diapers like in the publicity photo below, but that's probably not the case.
Hopefully diaper teriyaki (chicken or beef) is in the works soon...in the meantime, DIAPER SUSHI MENU BELOW!
Maguro (tuna) silicone mat
Salmon baking soda sponge
Ikura (Salmon eggs) cold pack
Tamago (egg) cellulose sponge
Kappa maki (cucumber roll) baby socks
Ebi (shrimp) bib
Ika (squid) melamine sponge
--------
Patrick Macias is editor in chief of Crunchyroll News. He also runs the Japanese Fashion Inferno tumblr blog. Follow him on twitter at @Patrick_Macias.