"Bushi no Hana" sung by Kakuda Nobuaki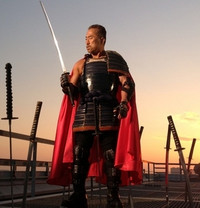 Hana no Keiji – Kan is the latest spin off from the popular Sengoku Pachinko series inspired by a manga by Fist of the North Star artist Tetsuo Hara. Now, the game has inspired burly K-1 fighter and top karate man Nobuaki Kakuda (and his "Kabuki Angels" backup troupe) to break into song and dance to sing its praises in a new music video for the game's rousing theme "Bushi no Hana".
Maybe it will even inspire you to throw away your life savings on pachinko!
While not beating people senseless into a pulp, Kakuda also found the time to record an entire mini-LP of soul-stirring Sengoku Pachinko anthems frontloaded with "Bushi no Hana" and you'll find the sleeve art, also by Tetsuo Hara, below.
--------
Patrick Macias is editor in chief of Crunchyroll News. He also runs the Japanese Fashion Inferno tumblr blog. Follow him on twitter at @Patrick_Macias.