Available from Premium Bandai in April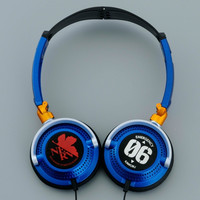 Bandai's official online store, Premium Bandai, has begun accepting preorders for headphones based on the colors and design of the "Rebuild of Evangelion" Mark.06, the Evangelion unit of character Kaworu Nagisa. The headphones continue Bandai's series of Evangelion audio gear, following up the EVA Unit 02 headphones that went on sale last year.
The headphones feature the same shades of metallic blue and black seen on Kaworu's Mark.06 in the newest Evangelion movie, "Evangelion: 3.0". The ear cups are printed with the NERV and Mark.06 logos.
The headphones retail for 3,980 yen. Quantities are limited, and preorders will end when supplies are exhausted. Orders will ship in April 2013.
Links:
Evangelion: 3.0 You Can (Not) Redo
Source: YATTAR JAPAN