Crossover 3DS SRPG joined by "One Piece: Pirate Warriors" sequel and "Tekken" card game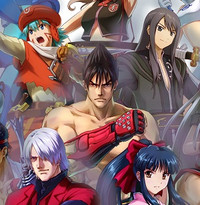 Some of you might remember Project X Zone, the crossover strategy-RPG for 3DS that featured a bevy of characters from Sega, Namco Bandai, and Capcom's respective libraries. While other CRN writers covered it, I kept tabs on almost every single new development I could find. I loved the idea, and I can never get enough of handheld strategy games--which reminds me, Fire Emblem: Awakening is only two weeks away.
Well, I got my wish-- following an announcement at a Namco Bandai press event, Project X Zone is heading to North America in the summer of 2013, bringing grid-based strategy and combo-based 2D action with it.
That's not all, though--crowd fighter favorite One Piece: Pirate Warriors returns with One Piece: Pirate Warriors 2! The sequel will be a PlayStation Network exclusive, and will also be debuting this summer.
Finally, fighting game legend Tekken enters an unexpected arena with Tekken Card Tournament! Namco Bandai didn't reveal much about this upcoming game, but the digital component will be available in the first quarter of 2013, with actual collectible cards arriving in spring. Hey, it could work--SNK vs. Capcom: CardFighters Clash is still one of the best portable games ever made, and I'm one of the few people who really liked Metal Gear AC!D on the PSP.
Namco Bandai also teased a "big announcement" for February 4! We'll be sure to bring you more details on these titles as they become available!
Will you be picking up any of these upcoming games? I'm curious about Tekken Card Tournament, but I'm obviously most excited about Project X Zone coming Stateside. What about you?