Mom makes her kid a different "One Piece" themed bento box every day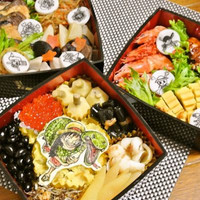 Remember when you were a kid, how excited you felt when you discovered your mom left you a note or a treat in your lunch? There's a doctor/mom in Japan who took that principle to a whole new level in order to help her kid eat healthier in style - she makes him a different One Piece bento box every day.
She blogs about her bento boxes daily, typically with instructions on how to duplicate her process. The bento boxes are all made to be incredibly healthy, and for the most part, come with edible artwork straight out of the anime/manga. Jealous yet?
She sometimes mixes it up with other shows or games.

I wonder what kind of black market playground trades you could get for lunches this cool?
-------
Amanda Rush is the Associate Editor for Ani.Me and contributor for OtakuCollectionDX. She swears in the middle of the night on Twitter as @TheAnimaven.