Ai Yazawa's 2-page comic revisits "Nana" in Shueisha's Cookie Magazine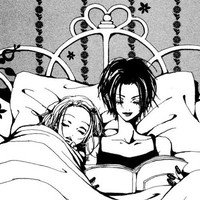 Nana fans, rejoice! After over three long years of waiting, we may see signs of life and art in Ai Yazawa once more. The most recent issue of Shueisha's Cookie Magazine, which published Nana, gave audiences a two page Junko's Place quickie. Junko, Shoji, Shin and Ginpei all appeared to banter about the appearance of the comic, and what it might mean for readers. They also make light of the fact that the comic doesn't feature an advance on the story. Though they don't say for sure what the future holds, we do know this - another Junko's Place is headed our way, likely in the May issue (due out March 26th).
For fans of Nana, the only thing that could be better is a formal announcement of the manga's return. Ai Yazawa put the series on hold in 2009 due to an unspecified illness that had her hospitalized for a year. Though she left the hospital in 2010, there's been no word on whether she intended to finish the series.
For fans of the manga, the timing couldn't have been worse. The 21st volume saw one of the most heartbreaking moments in the series - possibly one of the saddest things I've ever seen in a manga. Yazawa's powerful story hurt to read, and for those of us who had come to love the characters, it was agony.
So is this a tease at the return of Nana? It isn't the first time she's contributed to Cookie since her hospital release. In 2010, she drew a Christmas card for the magazine, and nothing ever came of that. But two pieces of art in three months feels more substantial. Maybe she's testing the waters to see if she can come back? Only Ai Yazawa knows for sure.
Nana has sold over 40 million volumes worldwide. The anime is licensed by Viz and currently running dubbed on Neon Alley.
Would you like to see Nana return?
Source: Cookie, Manga News

-------
Amanda Rush is the Associate Editor for Ani.Me and contributor for OtakuCollectionDX. She swears in the middle of the night on Twitter as @TheAnimaven.