New album from BiS on sale in March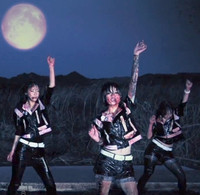 BiS (the name is short for "Brand New Idol Society") are an intense Japanese idol group, sort of like a dark and dysfunctional AKB48 in serious need of shock therapy and/or happy pills.
With ham-fisted promo images like the one below, it is initially kind of tempting to laugh them off, but BiS music – which is a mix of metal rock and more traditional jpop songcraft – continues to be oddly compelling.
BiS: voted "most likely to bring nail-studded bats to an idol concert"
We've featured BiS on Crunchy News before for the slow motion face-slapping fest that was their "GET YOU" music video and now, BiS is BACK, clad in "Who Killed Idol?" shirts and fake yakuza tattoos, with a wet and messy PV for the song "BiSimulation" filled with all manner of pained facial expressions and body fluids carelessly flung about. Watch below.
Is it all a deep and meaningful metaphor for the pain of being in an idol band? Has someone watched Battle Royale too many times? Does someone need a hug? Hopefully some explanations are forthcoming when BiS release their new album in March.
--------
Patrick Macias is editor in chief of Crunchyroll News. He also runs the Japanese Fashion Inferno tumblr blog. Follow him on twitter at @Patrick_Macias.