Minegishi Minami demoted to trainee status as punishment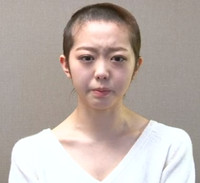 We know the pop idols in Japan are held to high standards in their professional and personal lives. Fans scrutinize their every move, and when they do something thought as immoral or improper, the backlash is enormous.
Just ask Minegishi Minami. She spent the night with Alan Shirahama from the band GENERATION and was photographed sneaking out the next morning, a mask over her face. Within a day she was demoted from senior member to trainee. The announcement came via the Google + page of AKB48's theater manager, Togasaki Tomonobu. He posted, "We have decided to demote Minegishi Minami to become a member of team Trainee as her punishment for causing nuisance to the fans because of this scandal. This demotion will take effect on February 1, 2013. Moreover, we will give more information about her schedule as soon as details have been decided."
How did the singer respond? By shaving her head and posting a video on Youtube.

She said, "I am very sorry for worrying the members, you fans, staff members, my family, and many people for the article about me on a weekly magazine that will be released today.
As the first generation member of AKB48 that was formed back in 2005, I was supposed to be in the position where I always had to act as a role model for the junior members. However, what I have done was such a thoughtless and a lack of self-awareness behavior.
Since my mind is still in blank, I did not know what to do or what I can do, but as I just saw the magazine, I could not sit still, so I decided all by myself to shave my head without even telling the members or my agency.
I do not expect that I would be forgiven by doing this, but what I first thought was that I did not want to quit AKB48.
I was unable to think of leaving AKB48 now where the members I love and spent my youth together, and you warm fans are. I know this is being over‐optimistic, but I want to stay as Minegishi Minami of AKB48 if possible.
It was all my fault about this. I am very sorry.
I will leave everything to Akimoto-sensei's and the management's judgement. Though I haven't been able to sort out my feelings, I just wanted to tell you how I was feeling right now.
Thank you."
Though she says AKB48 had nothing to do with her decision to shave her head, the video was posted on their official Youtube account.
So what do you think? A little too Britney for your taste, or does the punishment fit the crime? Does it make you think differently about the anime?

-------
Amanda Rush is the Associate Editor for Ani.Me and contributor for OtakuCollectionDX. She swears in the middle of the night on Twitter as @TheAnimaven.