Feel like visiting locations from "Hyouka?" There's a map for that.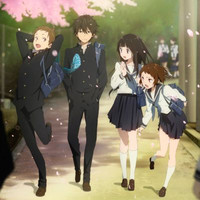 Hyouka may take place in the fictional town of Kamiyama City, but the city (and locations in the anime) is drawn from the real-life Takayama, in Gifu prefecture. Takayama is playing up their connection to the anime by distributing 10,000 copies of a map that gives anime fans a nice tour of spots seen in the show.
If you're into anime pilgrimages, or just want a nice spot to have a latte, Takayama seems like a very pretty place to visit. And there's no denying the connection between the city and the show.

Would you pilgrimage to see the locations form your favorite anime?

Source: Japan Otaku Channel, pics via Chitanda

-------
Amanda Rush is the Associate Editor for Ani.Me and contributor for OtakuCollectionDX. She swears in the middle of the night on Twitter as @TheAnimaven.