Fantasy spoof anime nods to Michael Jackson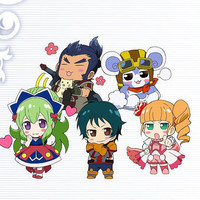 Fantasy spoof anime Ixion Saga DT is spawning a pair of character song CDs named "The Cherry Best of DT" and "The Golden Best of ED", slated for February 27th. Coupled with the half clever sexual joke names is a pair even more amusing references to Michael Jackson album art.
Ixion Saga DT Cherry Best of DT

Disc 1

1. DT Ondo - DT Group

2. Docchitsukazu My Body (My Uncertain Body) - Marian (CV: Jun Fukuyama)

3. Nya Me (Meow Me? Near Me?) - Sainglain (CV: Kazuya Nakai)

4. Zettai Fukushuu (Absolute Obedience) - Hime (CV: Shiori Mikami)

5. Kemono no Uta (Beast Song) - Pet (CV: Yoshimasa Hosoya)

6. DT - Kon (CV: Takuya Eguchi)

Disc 2

Soundtrack

Ixion Saga DT Golden Best of ED

Disc 1

1. Stand Up! ED - ED Group

2. Subete Ore no Mono (Everything is Mine) - Variation (CV: Yuki Kaji)

3. M no Uta (Song of a Masochist) - Leon (CV: Tomokazu Sugita)

4. Itsumo Anata wo (Always for You) - KT (CV: Mitsuki Saiga)

5. Batsu Ichi (Divorced) - Gustave (CV: Kenichi Suzumura)

6. ○○ Tama (○○ Balls) - Erec (CV: Hiroshi Kamiya)

Disc 2
Soundtrack
A pair of "DT" and "ED" t-shirts are also do in February.
------
Scott Green is editor and reporter for anime and manga at geek entertainment site Ain't It Cool News. Follow him on Twitter at @aicnanime.