Uno de la película como tal, y otro de una campaña promocional con un ramen instantáneo.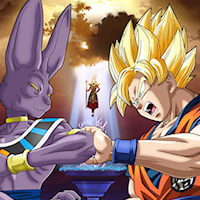 En la televisión japonesa ha comenzado a emitirse un anuncio de 30 segundos de la película Dragon Ball Z: Battle of Gods. El film se estrenará el próximo 30 de marzo.
También se ha comenzado a emitir un anuncio que promociona los fídeos instantáneos "Super Cup" de Ace Cook, que cuentan con una campaña por la que darán 10.000 tarjetas para libros de Dragon Ball por valor de 500 yenes cada una.


La historia se sitúa varios años después de la batalla con Majin Buu. Bils, el dios de la destrucción que mantenía el equilibrio del universo, se ha despertado de un largo sueño. Al escuchar rumores sobre un saiyajin que ha vencido a Freezer, Bils parte a la búsqueda de Goku.
Emocionado por el hecho de que haya aparecido un oponente tan poderoso tras tanto tiempo, Goku ignora las advertencias de Kaito y decide enfrentarse a él. Sin embargo, Goku resulta no estar a la altura del poder de Bils y es vencido. Bils se va pero deja un mensaje: "¿Hay alguien más en la Tierra que sea digno de destruir?". ¡¿Podrán Goku y los demás vencer al dios de la destrucción?!
La película estará dirigida por Masahiro Hosoda (director de episodios de Dragon Ball Z, Nangoku Shounen Papuwa-kun) bajo Toei Animation, y el guión será de Yusuke Watanabe (live-action de 20th Century Boys, Gantz, Bloody monday, Mirai Nikki) con Tadayoshi Yamamuro (Beet the Vandel Buster) como director de animación. Akira Toriyama, creador del manga original, estará muy implicado en este film.
El grupo de J-Pop Flow será el responsable de interpretar una nueva versión del clásico "Cha-La Head-Cha-La" para la película.