Begins Feb 6 at 8:45 am Pacific Time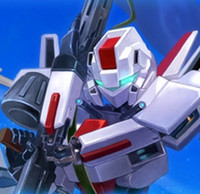 Hark! Crunchyroll has added yet another new title to its winter simulcast lineup! Straight Title Robot Anime, the first series to be produced using MikuMikuDance software will be available for viewing every Wednesday, starting on February 6, 2013 at 8:45a.m. Pacific Time for premium members, and February 13 for free members.
Story and background info:
The story is centered on three robots in the year Mobile Century 8013, a time when humanity has already been wiped out but remaining military robots continue to fight. Three robots, Fuji, Katō, and Mori, stand up to try and put an end to this war that has been going on for over seven millennia.
KEI, the illustrator famous for designing Vocaloid Miku Hatsune, as well as other Vocaloids Rin and Len Kagamine, Luka Megurine, and Lily, is also handling character design for Straight Title Robot Anime. Director Kōtarō Ishidate, also known for his work on gdgd Fairies and Boku-no-imoutowa"Osaka-okan", will be overseeing scripts and direction. The cast features Asuka Nishi, Ursula Abramov from Bodacious Space Pirates and Hakata Hanamori from Ebiten, as Fuji, Miho Arakawa, known for her role as Himari Takakura in Penguindrum, as Katō, and Rumi Ookubo, Chinatsu Yoshikawa from YuruYuri and Pisti from Magi, as Mori.
Straight Title Robot Anime will be available to Crunchyroll's audience worldwide, except for Japan.
The show page will be up soon at www.crunchyroll.com/robotanime
--------
Patrick Macias is editor in chief of Crunchyroll News. He also runs the Japanese Fashion Inferno tumblr blog. Follow him on twitter at @Patrick_Macias.