Artwork part of a new phase in Japanese social game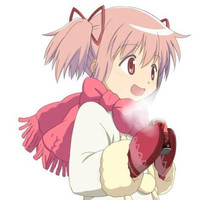 We went through a lot with Madoka and pals over the course of 12 episodes. One thing we didn't experience with them? Winter. Now we can, thanks to a Madoka Magica social game in Japan.
They released art of the girls looking snuggly in their winter clothes.
I adore Mami's bow.
Kyoko has two pieces of art.
My favorite? Homura in a very Russian look.
Sadly, there is no artwork of Kyubey in a scarf. Probably because they were worried some disgruntled magical girl would come along and strangle him with it because a new pony wasn't worth the price of her soul.
Source: 4gamer
-------
Amanda Rush is the Associate Editor for Ani.Me and contributor for OtakuCollectionDX. She swears in the middle of the night on Twitter as @TheAnimaven.