Happy birthday, Rin!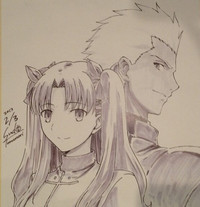 To celebrate the birthday of Rin Tohsaka on February 4th, ufotable Dining hosted a week long celebration.
Rin's birthday week event was scheduled for 1/31/13 - 2/5/13 and it is a part of a "Fate/stay night [Realta Nua] DINING" event at the restaurant that is owned by ufotable, the animation house that produced Fate/Zero. During this event, the restaurant is available for reservation only.
Reserved guests may choose from two diferrent course menus, Rin's "Red Devil" or Archer's "Unlimited Blade Works" course, and each comes with a special placemat of either Rin or Archer. I am not sure why this Archer's bangs are down; he looks younger, but still cool.
During the birthday event, guests will also get this special birthday card.
Guests can enjoy games while at the event, this is one of the prizes for Rock, Paper and Scissors match, autographed art by Sudo Tomonori, character designer of the Fate/stay night [Realta Nua] opening.
Rin's birthday cake! There is a jewel!
Guests brought birthday gifts to Rin, too! Ufotable dining's Twitter.
ufotable Dining will continue with a Fate/stay night [Realta Nua] DINING event on Valentine's Day week from 2/14 to 2/19. Reserved guests will receive a special chocolate dessert with the course menu.
Fate/Zero spin-off manga, Zero Cafe page also posted a tribute for Rin's birthday.
Last week was a busy birthday week for Fate/Zero characters. Irisviel von Einzbern was on 2/1, Uryu Ryunosuke was on 1/31.
It's always very nice to see Fate characters being happy:)