New Marvel and Madhouse OVA from Hiroshi Hamasaki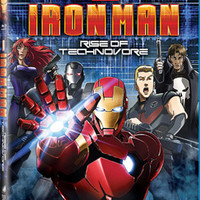 Following the Super Bowl hype for the Iron Man 3 live action movie, Sony announced plans to release Iron Man: Rise of Technovore anime on Blu-ray and DVD April 16, 2013.
Directed by Hiroshi Hamasaki (Shigurui, TEXHNOLYZE), with story by Brandon Auman (The Avengers: Earth's Mightiest Heroes!, Iron Man: Armored Adventures), the film explores a confrontation between Iron Man and the villainous Ezekiel Stane, who develops new bio-technology that seemingly outclasses the Iron Man armor. After Stane unleashes a terrorist attack and sets Tony Stark up to take the fall, Iron Man must evade S.H.I.E.L.D.'s man hunt and find a way to clear his name.
"Iron Man is a natural fit for anime," said Megan Thomas Bradner, producer of the film. "It's a medium that's comfortable with telling more mature stories. There's a breadth and depth to both the storytelling and characters, and though [he] works great in our kid-targeted animation, there's a whole universe of stories out there. It's [also] nice not having to limit ourselves. That, and it's always exciting to see the beautiful spin Madhouse gives things."
------
Scott Green is editor and reporter for anime and manga at geek entertainment site Ain't It Cool News. Follow him on Twitter at @aicnanime.