Una nueva historia de las idols de 765 Pro con el mismo staff que la última serie de televisión.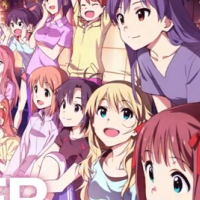 En el evento The [email protected] Music [email protected] of Winter! celebrado hoy domingo, se ha anunciado que hay una película de la franquicia en marcha. La película de The [email protected] será una historia completamente nueva protagonizada por las idols de 765 Pro.
La franquicia ya ha inspirado dos series de televisión, varias OVAs, cuenta actualmente con ocho mangas en publicación, y una serie animada de cortos basada en el manga Puchimas! Petit [email protected] de Akane.
El staff de la película será el mismo que el de la última serie de televisión, incluyendo el estudio A-1 Pictures, los guionistas Atsushi Nishigori y Tatsuya Takahashi y contando con el mismo Nishigori como diseñador de personajes y director. Se dará más información en el número de abril de la revista Megami Magazine de Gakken el próximo 28 de febrero, donde se incluirá una charla entre Nishigori y Akihiro Ishigara.