The Budokan Hive is invaded by BETA hoodie wearing Muv-Luv Total Eclipse fans!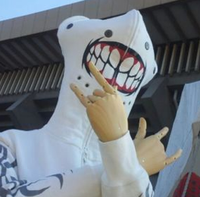 So the day all BETA hoodie owners gathered for a photo session is here! The day's activity was documented by Bamboo, the designer and the frontman of the band Milktub who is also a producer at Mangagamer on his blog. I have obtained permission to repost the photos from the session here and he has a special message for BETA hoodie fans here as well.
09:37:28 getting ready to invade
10:12:27 The booth is ready
11:33:37 Budokan maji YABAI
12:35:10 Budokan is completely invaded! Thank you all for coming!
Wow, BETAs are a lot more well-behaved than I expected! Official photos will be uploaded to the main site later. For those who can not wait, there is also a video of the gathering.
From Bamboo:
Hello, Total Eclipse fans in US! This is Bamboo from milktub. We made a BETA-style hoodie. We promise to bring you more crazy merchandise like this from the far east in the future. I wonder if anyone is interested in purchasing one of these? If there is demand, I will talk to people at age (the developer of Muv-Luv Alternative). I attend Anime Expo every year, but I won't be able to make it this year since my band will be on tour. Hope to see you at the Mangagamer booth at Anime Expo next year!
TE-USAファンの皆さん、こんにちわ。milktubのbambooだ。今回BETAパーカーなる物を作成した。今後も我が社はクレイジーなマーチャンダイズを極東で作って行くので宜しく。所でステイツでも需要あるかしらコレ?あるならageの人に言っておくケド。あと毎年参加しているAXだが今年はmilktubのツアーが日本である為不参加である。来年AXのmangagamersブースでお会いしよう!