"I ask of you...are you the MASTER of Chogokin Saber?"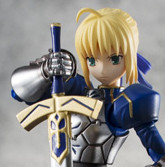 Bandai's Tamashii figure brand site, Tamashii Web has posted an interview with Ayako Kawasumi, the voice of Saber on their page with a new video to promote the new Chogokin Saber figure.
In the video, Ayako Kawasumi mentions that the Chogokin Saber is wearing die-cast metal armor, the first for this size of figure and says "the weight of the armor is the weight of Saber's pride. I also felt the heaviness of the armor signifies the heavy destiny a young girl like Arturia, had to endure. Just by holding this figure, you will understand Saber much deeper." She also says Saber's famous line in Saber's voice toward the end of this video.
Someone is looking over Ayako and Saber...?
When asked who from Fate/Zero that she would like to see as a figure, Ayako answered Zero Rider. Sorry Archer, Ayako knows her character too well:)
Tamashii Web also has a special page decicated to Chogokin Saber from Fate/Zero that will be on sale on February 16th.
This Saber is Chogoukin AND Bishoujo figure.
Price: 7,875JPY
Sale Date: Feb. 16, 2013
There was a photo of the Chogokin golden one in the article...but it's only a prototype.