Viz Media adds "Happy Marriage?!", "Midnight Secretary," and more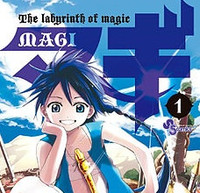 Are we running out of Valentine's Day treats yet? Not according to Viz Media, who rolled out a slew of announcements for the Shonen Sunday and Shojo Beat manga imprints. Chief among them is the addition of Shinobu Ohtaka's Magi, the first volume of which will be available on August 13.
If you've been watching the anime, you know Magi follows the young adventurer Aladdin as he teams up with the genie Hugo and his friend Alibaba on a quest to reap the treasure-packed rewards of mysterious dungeons. The manga made its Japanese Weekly Shonen Sunday debut in 2009.
Additions to the Shojo Beat lineup include Maki Enjōji's Happy Marriage?!, Tomu Ohmi's Midnight Secretary, Maki Minami's Voice Over!: Seiyuu Academy (Seiyuu ka—!), and Sakura Tsukuba's Sweet Rein (Yoroshiku Master). Dig the official synopses and release info below:
HAPPY MARRIAGE?! · Rated "M" for Mature ·
MSRP: $9.99 U.S. / $12.99 CAN · Available August 6, 2013
In order to help her father, Chiwa Takanashi agrees to an arranged marriage with the company president Hokuto Mamiya – a man she doesn't know – at the request of Hokuto's grandfather. Chiwa believes the arrangement isn't binding, but her new partner seems to think otherwise. Can two strangers living together find their way to a happy marriage?!
MIDNIGHT SECRETARY · Rated "M" for Mature ·
MSRP: $9.99 U.S. / $12.99 CAN · Available September 3, 2013
Kaya Satozuka is a brilliant secretary who excels at her job, which is why she doesn't bat an eye when she's assigned to be personal secretary to Kyohei Touma, the very difficult managing director of Touma Foods. It doesn't faze her when her new boss seems determined to make her fail, and she even manages to take it in stride when she discovers the secret behind his prickly behavior…he's a vampire! But while Kaya easily adapts to late nights and keeping a schedule of his "dinner dates," will her ultra-competence help when Kyohei's smoldering gaze starts turning her way?!
VOICE OVER!: SEIYUU ACADEMY · Rated "T" for Teens ·
MSRP: $9.99 U.S. / $12.99 CAN · Available October 1, 2013
Hime Kino's dream is to one day perform voice acting like her hero, Sakura Aoyama, from the Lovely Blazer anime. So getting accepted to the prestigious Hiragi Academy's voice actor department is the first step in the right direction! But on her first day of class she meets Sakura's grouchy son, Senri, who tells Hime that her voice is awful and Lovely Blazers is stupid. Hime will not let that stand unchallenged. She'll show everyone that she IS a voice-acting princess, whether they like it or not!!
SWEET REIN · Rated 'T+' for Older Teens ·
MSRP: $9.99 U.S. / $12.99 CAN · Available November 5, 2013
Sad at the thought of spending Christmas alone, Kurumi goes out for a walk. While she's crossing the street, a boy bumps into her and a rein suddenly appears that binds them together. The overjoyed boy tells her she's his master, and that she's a Santa Claus. Kurumi dismisses him as a crazy person, but then he transforms into a reindeer?!
-------
Joseph Luster is the Games and Web editor at Otaku USA Magazine. His blog can be found at subhumanzoids. Follow him on Twitter at @Moldilox.