"Love in Hell" and "Monster Musume" debut in October with "A Centaur's Life" following in November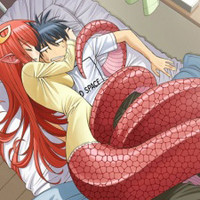 Seven Seas apparently aims to be your one stop shop for monster girl manga. This fall, they'll be offering new licenses including the slice-of-life high school comedy, A Centaur's Life, the "devilishly naughty and irreverent" Love in Hell, and "the whacked out harem comedy with fantastical babes," Monster Musume.
"There's growing interest in new stories about exotic supernatural creatures that we don't typically see," says Adam Arnold, Managing Editor of Seven Seas Entertainment. "Move over, vampires and zombies, there are new monsters in town!"
Love in Hell and Monster Musume debut around Halloween, in October 2013. These will be followed in November 2013 by A Centaur's Life.

A Centaur's Life
Story and art by Kei Murayama
Being a teenager is never easy...especially for a centaur! Himeno is a sweet, shy girl, who like many teens her age, struggles with the trials and tribulations of attending high school. The difference is she's a centaur; but she's not alone. In fact, all of her classmates are supernatural creatures, sporting either horns, wings, tails, halos, or some other unearthly body appendage. Yet despite their fantastical natures, Himeno and her best friends—the dragon-winged Nozomi, and Kyoko with her spiraled horns—are down-to-earth, fun-loving teenagers who grapple with issues of life and love in a mostly normal daily school setting.
Love in Hell
Story and art by Reiji Suzumaru
Rintaro Senkawa is a regular guy in his mid-20's who got a little drunk one night and fell to his death. But that is just the beginning of Rintaro's story, as he finds himself unexpectedly in Hell where he meets his guide, the painfully sexy devil Koyori. Can Rintaro take his situation seriously enough to repent for the sins of his former life, or is he fated to be eternally tempted, teased, and tortured by scantily-clad devils with iron spiked clubs?
Monster Musume
Story and art by OKAYADO
Monsters—they're real, and they want to date us! Three years ago, the world learned that harpies, centaurs, catgirls, and all manners of fabulous creatures are not merely fiction; they are flesh and blood—not to mention scale, feather, horn, and fang. Thanks to the "Cultural Exchange Between Species Act," these once-mythical creatures have assimilated into society, or at least, they're trying.
When a hapless human teenager named Kurusu Kimihito is inducted as a "volunteer" into the government exchange program, his world is turned upside down. A snake-like lamia named Miia comes to live with him, and it is Kurusu's job to take care of her and make sure she integrates into his everyday life. Unfortunately for Kurusu, Miia is undeniably sexy, and the law against interspecies breeding is very strict. Even worse, when a ravishing centaur girl and a flirtatious harpy move in, what's a full-blooded teenage human with raging hormones to do?!
------
Scott Green is editor and reporter for anime and manga at geek entertainment site Ain't It Cool News. Follow him on Twitter at @aicnanime.