El 22 de marzo se podrá conseguir en tiendas japonesas.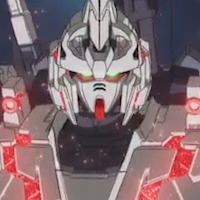 Desde el servicio Anime Channel de Bandai han colgado un vídeo con los primeros siete minutos del sexto episodio de Mobile Suit Gundam UC en inglés.
Este episodio llamado "Sora to Hoshi to Uchuu to Chikyuu to" debutará el 2 de marzo en 16 cines de todo Japón, cuatro más que el episodio anterior. Los 16 cines en cuestión venderán el BD con el episodio, mientras que a partir del 22 de marzo se podrá conseguir tanto en DVD y BD en tiendas. La edición de cines y la primera edición limitada en tiendas contarán con un BD extra de 110 minutos que contendrá el evento "Film & Live" celebrado el 13 de mayo del pasado año, así como un "Cómo se hizo" y varias entrevistas.
Este sexto episodio iba a ser el último de la serie, pero en en el evento se reveló que habría una séptima entrega.