Galactic Pretty Desserts are here from Shinjuku's Marui One!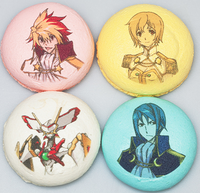 Shinjuku Marui One is one of the few locations that are Otaku friendly in stylish Shinjuku and does many collaborations with anime. There are multiple collaborations going on and one of them is for STAR DRIVER the Movie. The movie opened in Japan last Saturday.
The collaboration event is titled "Galactic Pretty Store in Marui One." "Galactic Pretty Store" is a word play with "Galactic Pretty Boy" since both in Japanese sound similar, as "Ginga Bishounen" and "Ginga Bishouten".
During the event, Patisserie Swallowtail is also offering STAR DRIVER desserts.
Galactic Pretty Boy Cake 630JPY
Sour cherry flavored mousse on top of passion fruit flavored rolled sponge with berries on top.
STAR DRIVER Macarons 300JPY each
Takuto (Red): Raspberry
Wako (Yellow): Lemon
Sugata (Blue): Blueberry
Taubaan (White): Chocolate
STAR DRIVER Cup Assort 1,050JPY
Chocolate covered Almond Cookies in a STAR DRIVER Mugcup
The Movie exclusive rubber coaster comes with each purchase of these desserts. STAR DRIVER the Movie collaboration event, "Ginga Bishouten at Marui One" is open until 18th of this month.
Watch the STAR DRIVER TV series, here.