The paper craft became a hit among children at the community center where it was shown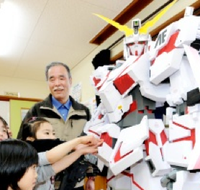 Fukui newspaper reports that a 67 year-old retired man in Fukui built a 6.5 feet paper craft UC Gundam and exhibited the paper giant at a local community center. He is looking for more community centers and other children's facilities to show it off so more kids can see it.
Uchida Seiji always liked crafting and making things. After his retirement, he started making paper crafts of robots and airplanes. While he was enjoying making them, his desire to make something on a larger scale grew stronger. Uchida found a website that had a blueprint of UC Gundam. It took him 600 pieces of craft paper and 2 months to finish. He added squared lumber inside for strength and made arrangements so that it can be taken apart to transport easiliy. He brought it in along with his other paper craft models for an exhibit at a local community center.
Gunpla Unicorn Gundam for your reference.
Uchida's paper craft UC Gundam became a hit among children quickly. Children are impressed that paper can make something this cool and big. Uchida says he is happy that his work is inspiring children to craft.