"A Certain Magical Index: Endymion's Miracle" opened on February 23rd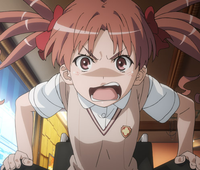 A Certain Magical Index: Endymion's Miracle (Japanese title: Toaru Majutsu no Index: Endymion no Kiseki) premiered in Japan. DENGEKIONLINE reported the opening day event by the cast.
From left, the movie director, Nishikiori Hiroshi, Abe Atsushi (the voice of Kamijo Touma), Iguchi Yuka (the voice of Index), Satou Rina (the voice of Misaka Mikoto), Misawa Sachika (the voice of Narugo Alisa, the movie original character) and the singer, Kawata Mami.
At the event, the cast revealed that the recording was very intense and it took from 10am to 1am the next day. Abe and Iguchi made the audience laugh when they said they were able to secure 10 minutes of lunch break only after they appealed to the movie staff that they want to eat with Hikasa Yoko, who is the voice of Shattoaura Sekuwentsia.
The original story for the movie was written by the author of the light novel series, Kamachi Kazuma and the original character design was also done by Haimura Kiyotaka, who provides illustration for the novels.
The first 13,000 visitors to the theater will receive a novel version of the movie written by Kamachi.
Scenes from the movie
Samples of movie merchandise available at the theaters.
Movie T shirt 3,150 yen
Index Hoodie Towel 3,990 yen
Movie Key Chain 800 yen each
©鎌池和馬/アスキー・メディアワークス/PROJECT-INDEX MOVIE
WARNER BROS. PICTURES