New manga chapter at the end of March, new anime in April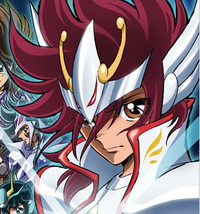 The Saint Seiya Omega official site announced that the popular anime will start a new chapter in April.
The new chapter will feature new characters! There is no image available for the new character yet, but it's a goddess who had something to do with Athena in the past, I will tentatively spell her name "Palas" since no English spelling is available yet. Palas will be the main antagonist in the new chapter and there is a fighter who supports her called "Palasite" with an ability to manipulate time. Palas also has a subordinate, Titan with her.
Another male character that will be joining the show is Subaru, who will be like a little brother to Kouga. The story will follow Subaru as he mentally matures while learning the virtue of friendship and his pursuit of his destined mission. See how passionate and confident, yet still a trouble maker Subaru will grow up to be.
That's not all! For the new chapter, the characters willl have new cloths, too! So much more to look for in April! The new chapter will also have manga that starts at the end of March in Kero-kero Ace, published by Kadokawa Shoten in Japan.
To catch up, watch Saint Seiya Omega here.
(C)車田正美/東映アニメーション・テレビ朝日・電通
Source: Natalie